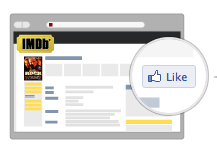 The Open Graph Protocol enables you to integrate your Web pages into the social graph. It is currently designed for Web pages representing profiles of real-world things — things like movies, sports teams, celebrities, and restaurants. Including Open Graph tags on your Web page, makes your page equivalent to a Facebook Page.



Requerimiento: Integrar proyecto en Symfony 1.4 con el protocolo Open Graph para el intercambio de contenidos a Facebook.
Versión de Symfony: 1.4
Proyecto: Blog en Symfony
Facebook Developer: http://developers.facebook.com/docs/opengraph/
Open Graph: http://ogp.me/
Slots en Symfony 1.4: http://www.symfony-project.org/jobeet/1_4/Doctrine/en/04
Aquí vamos a trabajar en la vista detalle de un artículo.